EXPERIENCE OAKLAND IN A NEW LIGHT
GLOWLAND is a month-long winter festival beginning on Friday, November 18th, featuring art installations, live music events and illuminations throughout Oakland. Discover the playable and interactive art installation, Impulse, in Schenley Plaza, then head into Oakland's business districts to explore music, entertainment, vendors, games, and more!
Impulse in Schenley Plaza is free and open to the public daily from 10am-10pm!
GLOWLAND will transform the traditionally cold and dark days of early winter into an inspirational and fun experience for all. Special events will include an illuminated kick-off party, Small Business Saturday celerbation, and a family-friendly closing weekend. Additionally, buildings, public spaces, and unexpected corners of Oakland will be brought to life by variations of light-based art.
View GLOWLAND's full event program here!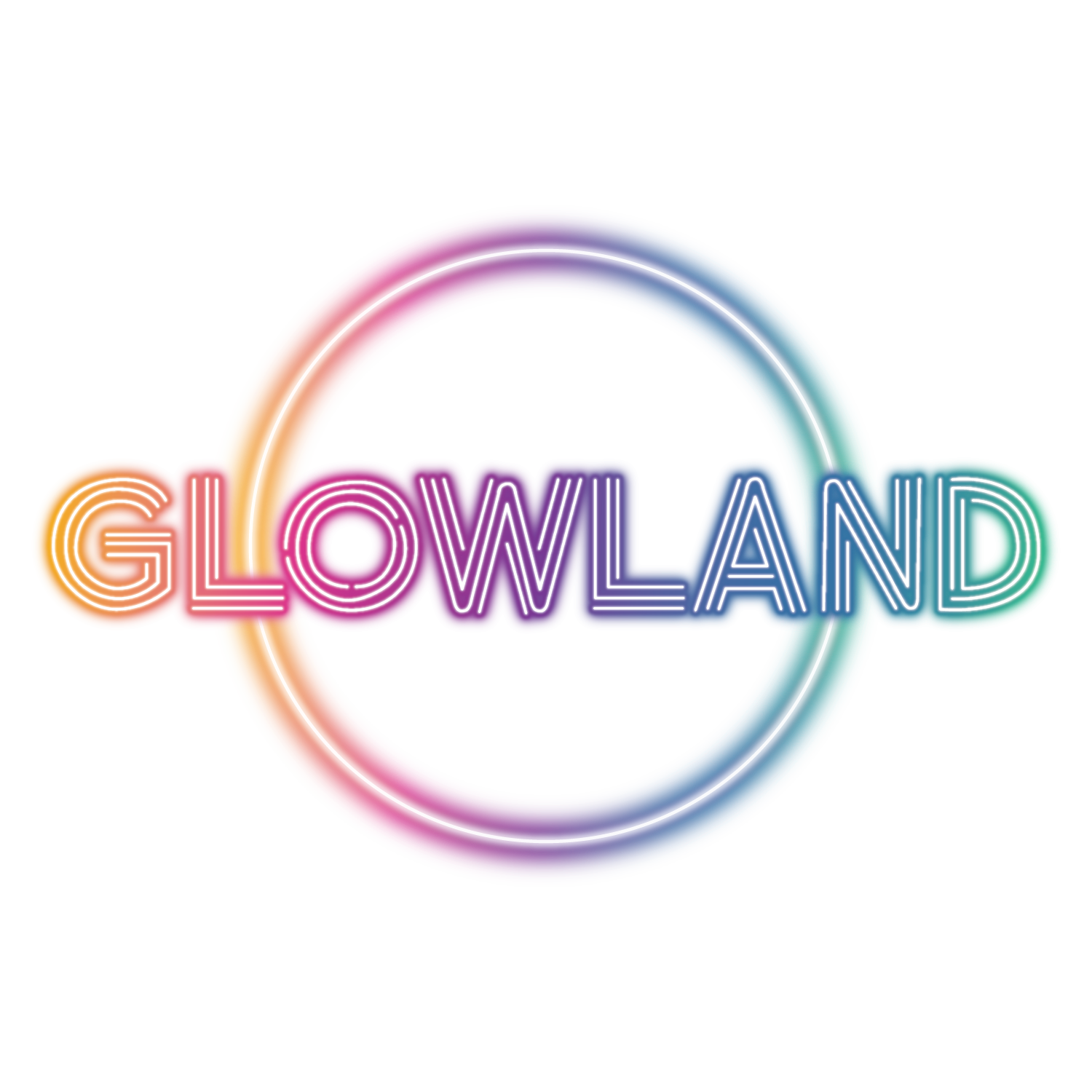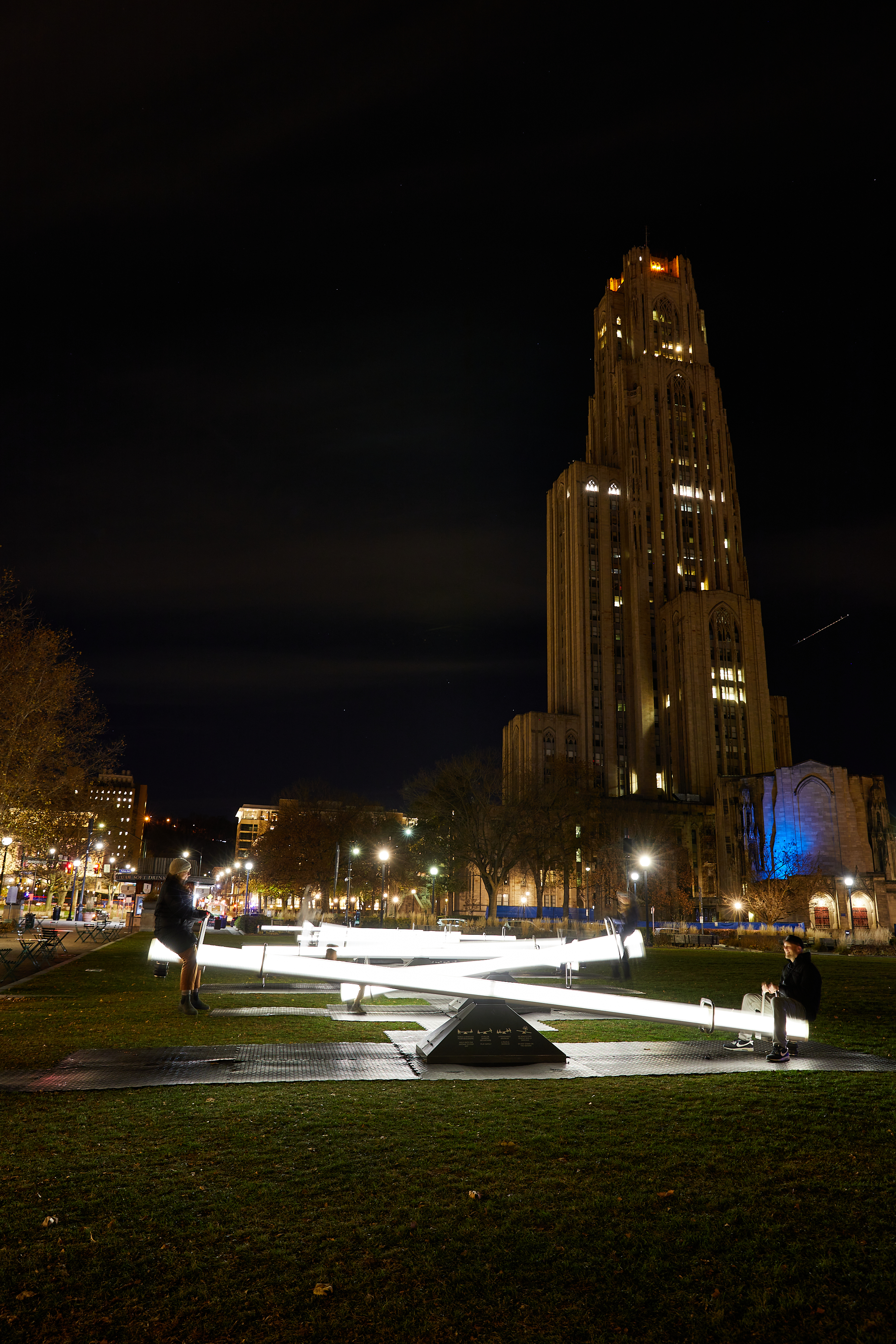 Welcoming Impulse to Pittsburgh
GLOWLAND is anchored by Impulse, a playable art installation that has drawn thousands of visitors in each of its international host cities, including New York City, London, Sydney, Toronto, and Montreal. Fifteen sound and light producing seesaws will transform Schenley Plaza into a playground for visitors of all ages to experience and enjoy. Impulse will be free and open to the public daily between November 18th and December 17th, 2022.
Impulse is an interactive work comprising a series of 30 seesaws with light and sound that changes when in motion. The seesaws form units of light and sound that can be activated by the public to create an ever-changing composition. By playing on the seesaws, users create a dynamic light and sound wave giving a pulse of warmth to the winter's short days and dark nights. Impulse was first presented as part of the 6th edition of Luminothérapie, in 2015-2016, at the Place des Festivals in the Quartier des Spectacles in Montreal.
Creation and execution: Lateral Office and CS Design
Production: Quartier des Spectacles Partnership, Montreal, Canada
Sound design: Mitchell Akiyama
Fabrication: Generique Design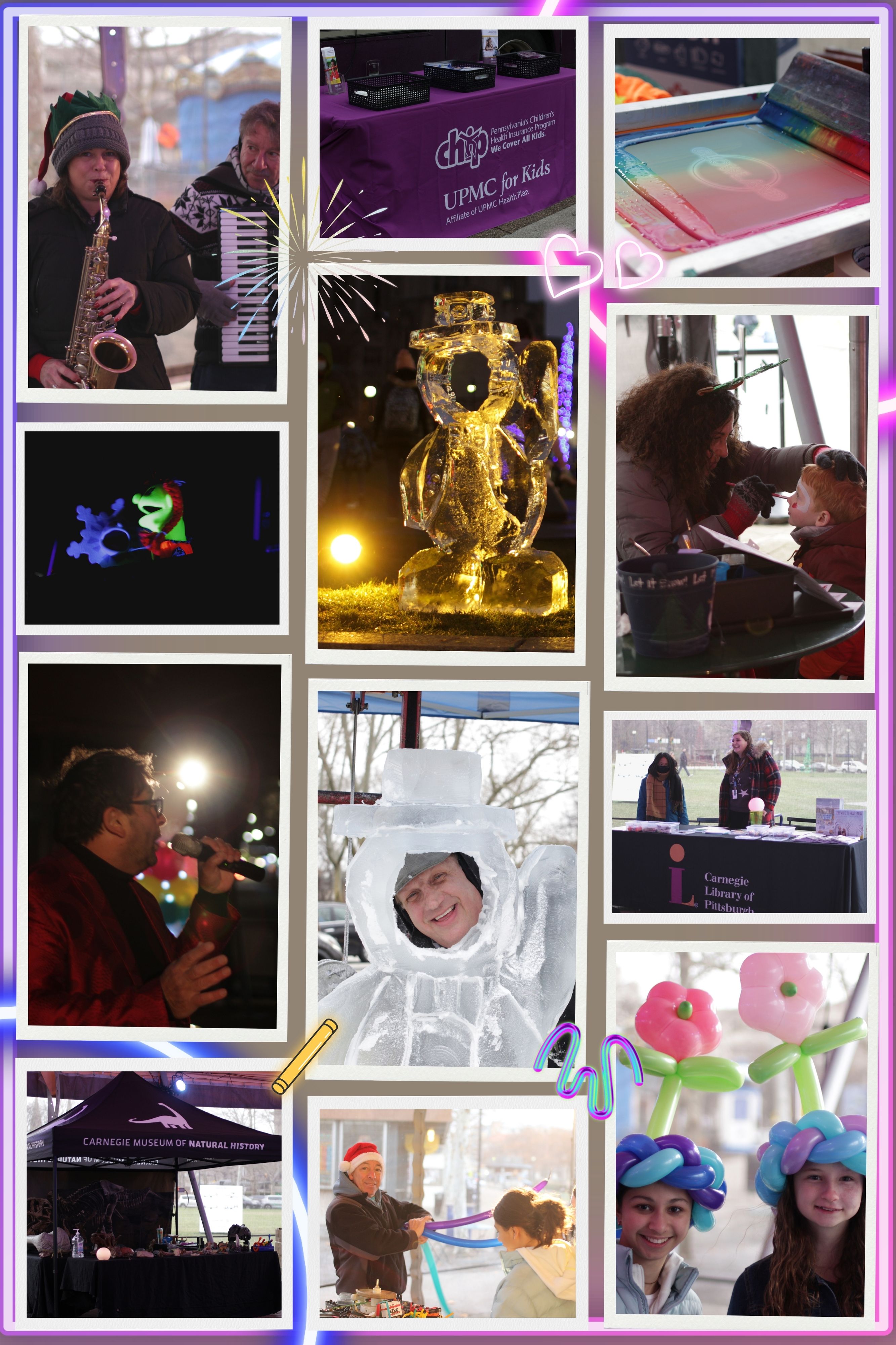 GLOWLAND EVENTS
Small Business Saturday: Saturday, November 26th from 12-5pm in Schenley Plaza
Shop local! The Big Tent in Schenley Plaza will feature a pop-up by Argyle Studio and treats from the Hilton Garden Inn - Pittsburgh University Place. Shop over 3,000 products from local-to-Pittsburgh makers, including clothing, jewlery, art, prints, pet products, home decor, and more! All items will be 15% off. After visiting Impulse and Argyle's pop-up, head into Oakland's business district to shop local retail and dining!
SeeSaw Saturdays: December 3rd and December 10th in Schenley Plaza
On Saturday, December 3rd, enjoy Pittsburgh Tuba Christmas from 3-4pm followed by live music from 5-8pm.
On Saturday, December 10th, enjoy live music by Arie Cole from 5-8pm.
UPMC Health Plan Presents: Winter Play Day on Saturday, December 17th in Schenley Plaza
Bring the entire family for a full day of music, art, puppet show and story time! All activities will take place under the big tent in Schenley Plaza. This is also the last day of Impulse!
Activities include:
1pm: Activities and Lawn Games
1:30pm: Story time by the Carnegie Library of Pittsburgh
2:00pm: Live music by Kelsey Friday & the Rest of the Week
4:30pm: Puppet Show by Pittsburgh Puppet Works
6:00pm: Holiday singing performance by Billy Mancini
Local artists from Artist Image Resource
Pop-up mini museum by the Carnegie Museum of Natural History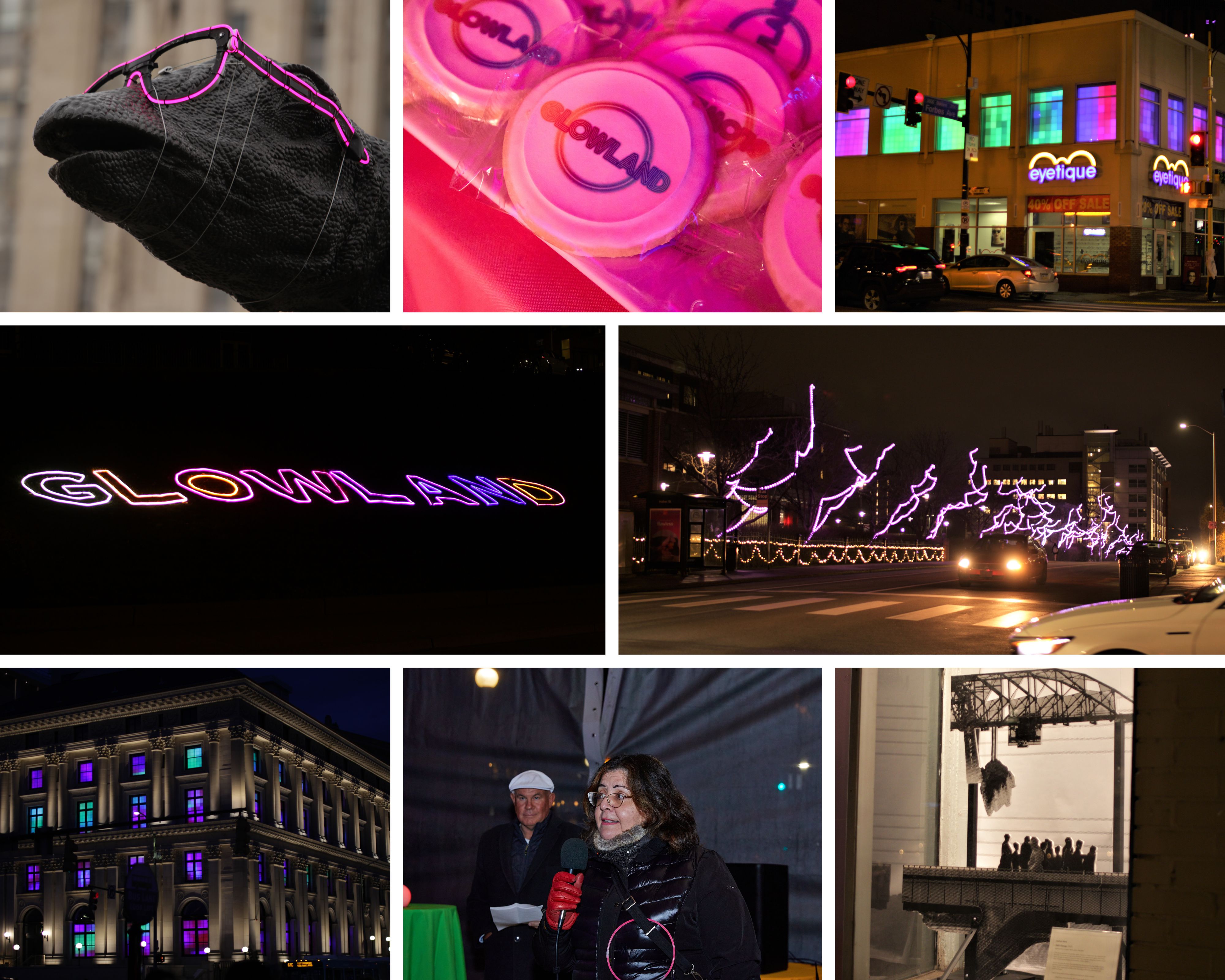 GLOWLAND ILLUMINATIONS
Living Lights on Forbes Avenue at the entrance of Oakland
The Living Lights have returned to the trees along the side of Magee Women's Hospital and react to the movement of traffic on Forbes Avenue, expressing the active motion and bustling energy of the Oakland Business District
Glowing Schenley Plaza Tent
Custom new media light installation that brightens up the Big Tent!

Dippy the Dinosaur
Dippy is lit up with an LED light installation including sunglasses and a necklace! Found in front of the Carnegie Museum of Natural History.

Shift Change
A site-specific installation based on the artist's father's account of growing up in the shadow of Bethlehem Steel in the Lehigh Valley. It features images of the steel plant, its ore cranes and railroads, and the Minsi Trail Bridge once used by commuting steel workers.
Retreat
Bright illuminations in the second floor windows of 115 Atwood Street.
Resort
Moving lights encapsulating the windows of the Former Pittsburgh Athletic Association Building on 4215 Fifth Ave.

Keep your eyes open for more installations and illuminations coming soon and we'll be sharing photos on our social media as they do!
GLOWLAND ARTISTS
Cornelius Henke III (ProjectileObjects), is a writer, VJ, and creative technologist. Versed in areas of video production and performance art; he has explored the visual mediums of film, music videos, motion graphics, live events, and interactive installations. You can see more of his work at ProjectileObjects.com. Cornelius created Living Lights, the Glowing Schenley Plaza Tent, and Dippy's illuminations for GLOWLAND.
Joshua Kerry is a multidisciplinary artist making work about passing down stories and possessions between family members. Through this work, he explores how we write family history and how it is shaped by outside events. Joshua created Shift Change.
Ian Brill's work focuses on the accumulation of form through process. Through the creation of interactive, performative, and multi-sensorial environments, he considers boundaries of becoming (versus being) and our immersive relationship with technology. His installations, performances and writing have been presented internationally, at conferences, festivals museums and galleries. Currently, he teaches at Penn State University. Ian's work for GLOWLAND can be found at 115 Atwood and at the Pittsburgh Athletic Association (coming soon!)
GLOWLAND is brought to you by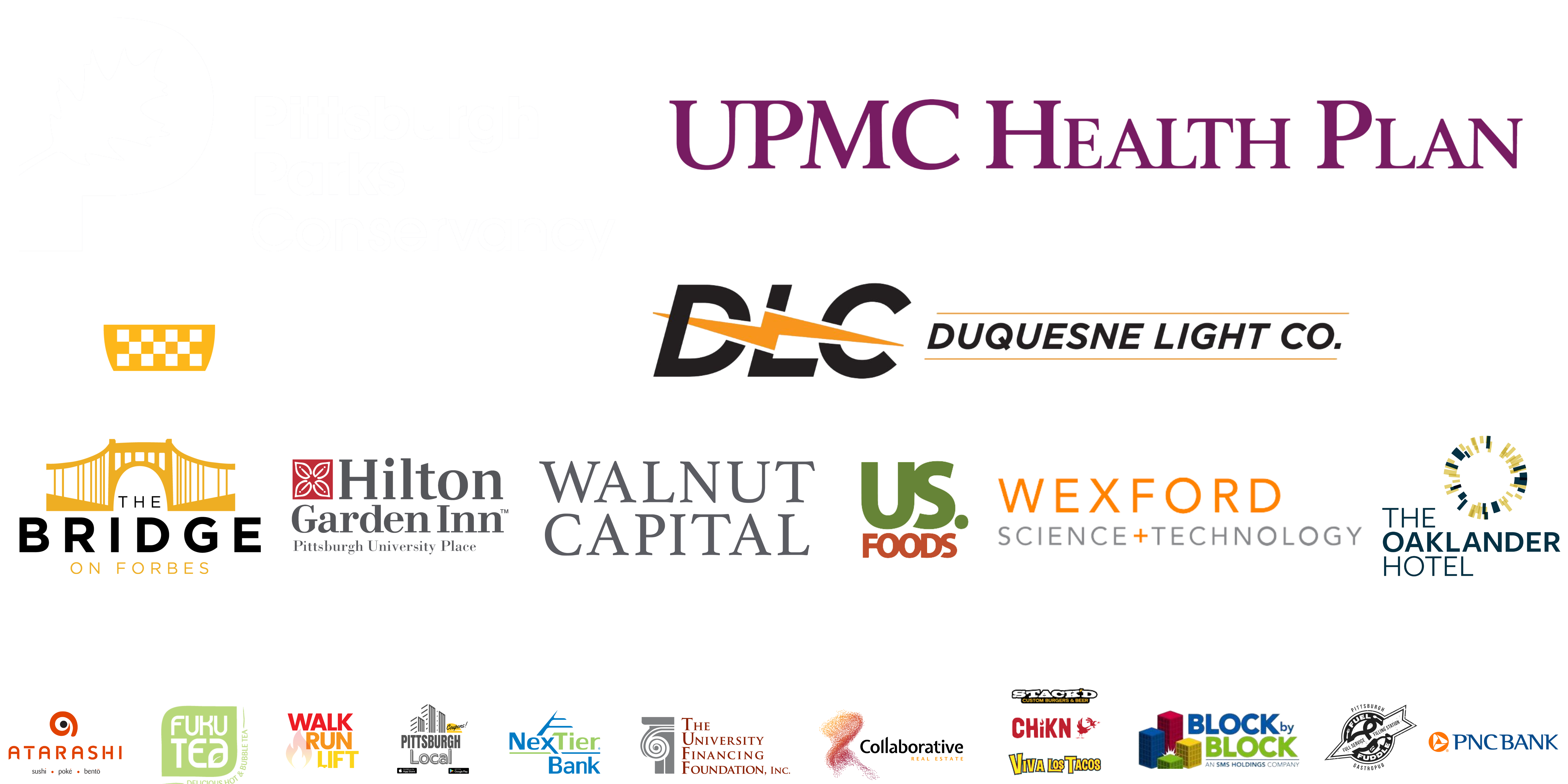 GLOWLAND Sponsors